Perspectives
Sustainability Everyday: SK Delivers Eco-Friendly Products to the United States
June 11, 2021
In the current era of climate change, providing meaningful value demands more than products and services that satisfy a need; they must also advance a healthier future for our planet. SK challenges each business to prioritize sustainability and advance our collective leadership in ESG.
Keeping this philosophy at the forefront is especially important for our growing presence in the United States. SK's investments in the US have expanded by billions of dollars in the last few years – and is only expected to increase with a commitment to invest an additional $10 billion in the US over the next few years.
In the United States, some of SK's most substantial efforts involve supplying other businesses with the materials and technologies they need to meet customer demands. As a result, Americans may not realize that SK is under the hood, in the wiring, or part of the DNA in products that are essential for everyday life.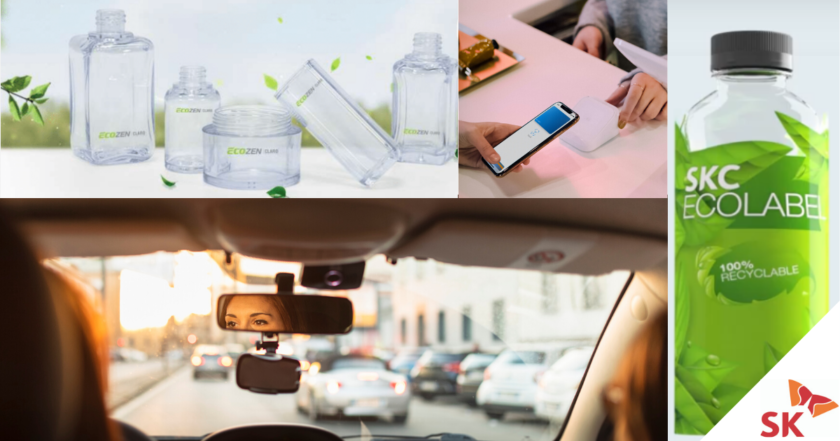 Sustainability In The Palm of Your Hand:
Manufactured in Covington, Georgia, SKC's Eco-label is the world's first fully recyclable shrink label. It's applied to water bottles, sodas, and sport beverages that Americans drink every day. Although consumers may not pay close attention to the wrapping on their bottle when quenching their thirst, it plays an unexpected and important role in what makes them sustainable.
With plastic bottles that don't use Eco-label, the sleeve has to be removed before it can be recycled. Many people don't do this, or even know that they should. It's reflected in the unfortunate estimate by the EPA that only 29.1% of PET plastic bottles are recycled in the U.S. each year.
Thankfully, Eco-label provides a seamless solution. Because the ink washes off the label, the plastic container can directly enter the recycling stream even if it's still attached. As a result, more PET resin is broken down in the process and can be used again. As Eco-label shows, even the unnoticed pieces can have a big impact.
Transforming Smart-Phone and PC Performance:
SK hynix is the second-largest semiconductor memory manufacturer in the world. The company's DRAM and NAND flash products provide customers with state-of-the-art memory solutions who depend on the sophistication and reliability of SK hynix's technology to process data at high-speed with low power consumption in a variety of essential devices.
DRAM, for instance, is used in PCs, laptops, data center servers – and even smartphones – to offer vastly improved performance. While NAND flash was first used for data storage in MP3 players, digital cameras, and navigation systems, its applications are now diversifying into smartphones, tablets, and PCs.
Consumers may not notice, but SK hynix components are under the hood of many of the laptops and smartphones they use to work, play, and connect with the world. In fact, in 2019, SK hynix began selling products directly to consumers – its first consumer Solid State Drives (SSDs) – and made them available right from Amazon.
SSDs like the Gold P31 offers best-in-class read speeds of up to 3,500 MB/s and write speeds of up to 3,200 MB/s: this could make all the difference for gamers spending long hours in play, and professional creators and designers whose livelihood depends on performance and stability.
And, in accordance with SK hynix's commitment to ESG, the Gold P31 SSD is responsibly encased in packaging that utilizes Forest Stewardship Council certified paper, biodegradable plastic bags, and soy ink.
UV Protection Built Into the Glass:
As a manufacturer of advanced materials, many SK businesses develop a variety of films and resins that form the building blocks of architectural and automotive projects. SKC, in addition to Eco-label, develops a window film that offers a reduction in Ultra Violet (UV) rays for the windows of cars, businesses, and homes.
When stepping inside a building or getting into a car, it's easy to forget that the sun is still shining on our skin through the windows. Unlike a day at the beach or out hiking, we don't expect to need protective sunscreen. With SKC, that assumption is more likely to be correct.
SKC's Skincare film and Window Film reduce the risk of skin cancer by blocking 99% of hazardous UV rays. They also help conserve energy by reducing cooling and air conditioning needs by blocking excessive solar heat.
By effectively blocking infrared radiation, the SKC Films prevents outside heat from infiltrating the interior of homes, maintaining a safer, comfortable, and eco-friendlier living environment.
Recyclable Cosmetic Containers for a Sustainable Future:
ECOTRIA by SK Chemicals uses more than 30% post-consumer recycled materials to deliver sustainable solutions for heat shrinkable films, food containers, and cosmetic containers. This is especially beneficial for the United States where ECOTRIA will be incorporated into cosmetic containers from an American multinational manufacturer of makeup and skincare products in the summer of 2021.
In addition to the sustainability of the materials, there is no degradation to the transparency or color tone of the glass-like material. This is essential for cosmetics where consumers expect to preview shades and textures before deciding on a purchase.
ECOTRIA's slow crystallization process also supports a necessary thickness in the walls that protect the container from chipping. The end result is an eco-friendly glass-like container that is strong enough to protect against damage, but still clear enough to easily see the contents. For U.S. consumers, ECOTRIA achieves a fine balance through sound, eco-friendly manufacturing.
SK's Growing Investments Introduce New Progress:
SK's presence in the United States is expanding. Long-term investments, partnerships, and manufacturing sites reach new stages where their products and services benefit consumers. By the end of 2021, SK telecom will introduce breakthrough, next-generation broadcasting technology to customers in the U.S. through its CAST.ERA joint venture.
In the next few years, the $2.6 billion SK battery America site in Commerce, Georgia will locally supply lithium-ion Electric Vehicle (EV) batteries for Ford and Volkswagen. With the first plant completed earlier this year, mass production is expected to begin in 2022 and advance the Southeast United States as a burgeoning leader in the global EV market.
SK's businesses are diverse and united by a shared mission: create meaningful value for the communities we're a part of to uplift our shared lives. In the next several years, SK is excited to expand upon this array of services and products for the United States in new, sustainable, and unexpected ways.