Perspectives
SK Products Recognized as the World's Best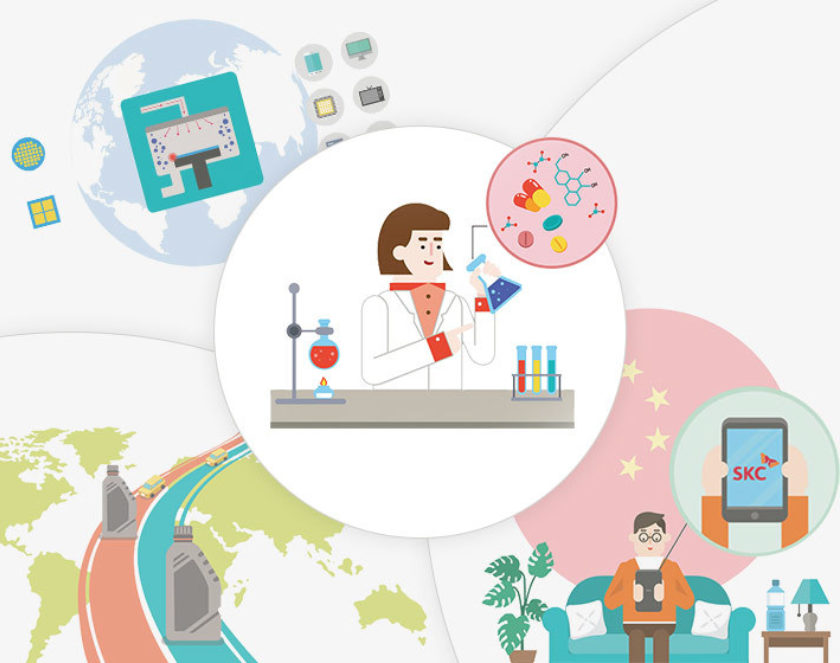 We are in the era of "advance or no survival." SK's affiliates have reinforced their fundamental competitiveness and successfully explored an orientation toward future growth. As a result, SK rose to the top in various fields at home and abroad. Let's look at the Best SK Products recognized in the world beyond Korea.
Core Optical Sheet Material
'Pet Films for Displays' by SKC
SKC has 40 years of reputation as a 'film expert.' Created by years of know-hows, SKC's PET films for displays have high penetration and excellent tensile strength that are widely used as various core optical sheet materials for displays including LCD and LED. Number one market share in China is also an indication of the product's global market recognition. SKC is preparing itself for mass-production of transparent polyimide films used for foldable displays, the latest buzzword of display innovation. The film leaves no crease even after multiple bending, the surface is as solid as glass and strong against contamination, all of which draw great attention as an alternative to the existing glass covers. While the company's goal is to start mass production this October, it plans to increase the market share quickly by bringing together its long experience in optical film manufacturing, its familiarity with PI material, and processing technology of its subsidiaries.

SKC HT&M was the first in the country to succeed in mass production of mill base in 2004. Among others, green mill base, the key raw material for LCD panels, was completed combining SKC HT&M's 30-year know-how in dispersion mechanism with pigment processing technology. Shatter-proof films (GDF) for mobile phones are also well recognized and popular in the market. GDF prevents glass pieces from shattering even if the mobile phone gets broken. SKC HT&M's GDF protects devices as well as their users with excellent adhesion and adds fanciness to dull-looking mobile devices with a wide assortment of metal colors and patterns. SKC HT&M's GDF accounts for more than 80% of the global market.
Global no.1 in Special Gas
Nitrone Fluorine Three Tungsten Hexachloride' by SK materials
Nitrone Fluorine Three (NF3) used to be entirely imported in the past, but SK materials self-developed NF3 in 2001 and became the first in the country to succeed in localization. NF3 is used in the manufacturing processes of semiconductors, displays, and solar batteries. It is a special gas which cleanses foreign substances remaining in the chamber after products are cleared. SK materials is maintaining 40% or more of the global market share in this item and holds an unrivaled global no. 1 record in production and sales.

The company also proudly records no. 1 in Tungsten hexachloride (WF6) production. WF6 is used in the semiconductor production process for metal contact and gate formation of semiconductor circuits. This no. 1 production record is maintained through proactive response to increasing demands arising from expansion of semiconductor refining process and 3D NAND flash. Even though there is an upheaval in the global market of semiconductors and displays due to emerging new trends including IoT and Big Data in addition to the advent of new market enterprises such as China, SK materials will guard its global no. 1 position with active investment in sustained process innovation as well as next generation product research and development.
Special Solvent in Pharmaceutical and Electronics
'High Purity Heptane' by SK golbal chemical
High purity heptane (HNH) is a common designation for high purity normal heptane and high purity normar hexane. SK global chemical is producing both products depending on its plant schedules. High purity heptane, used as a solvent of pharmaceuticals/reagents or electronic applications, requires high level of product quality due to the nature of relevant industries; thus, the need for world class production and operation technology.

SK global chemical utilized the self-developed SMB (Simulated Moving Bed) to retain production cost competitiveness. The company is responding with agility to the global advanced market which demands high purity of 97% or above through skilled operational know-hows, stable raw material security, and accurate raw material characteristics. This has enabled SK global chemical to maintain its competitive advantage accounting for 40% of the global market share and to be ranked no. 1 in China, India, and Europe.
Independently Developed High Quality Lube Base Oil
'YUBASE' by SK lubricants
YUBASE is a high quality lube base oil brand independently developed by SK. SK lubricants exports YUBASE to 50 or more countries in the world and now positioned as a leader setting the high quality lube base oil market. According to the lube base oil category classified by the American Petroleum Institute (API), YUBASE belongs to Group III, high quality lube base oil. In order to meet the Group III requirement, YUBASE maintains characteristics of 120 or greater viscosity index, 0.03% or lower sulfur content, and 90% or higher saturates content. While the demand for high quality lube base oil is increasing with the reinforcement of global environmental regulations, SK lubricants does not only hold the largest number of official licenses among other Group III suppliers but is also ranked no. 1 in production capacity to be recognized as the most reliable base oil supply partner.

Orientation toward 'high quality' often relates to high level of technology. A film in a cutting-edge device or a production process for the best semiconductor is the result of great technological integration. The same applies to materials connected to pharmaceuticals and electronics, high value-added industries that are closely related to modern people's life. Both high quality and environmental standards are the values that we cannot miss out. That is the reason why SK's affiliates, acknowledged as 'technological all-rounders,' cannot but hold no. 1 position in the global market.