Perspectives
Earth Day 2022: SK Investing in our Planet
April 22, 2022
For people and organizations around the world, Earth Day provides an opportunity to focus on what needs to be done to preserve the natural world and work toward a healthier, more sustainable future.
But the Earth Day movement is about more than just one day. SK recognizes that preserving our world and combating global issues like climate change will only succeed if citizens, governments and businesses work together. It's incumbent on global corporations like SK to be responsible stewards of the environment and have a positive impact on the communities in which they operate.
SK is investing $85 billion in eco-friendly businesses in the U.S. and around the world. As part of this effort, SK Chairman Tae-won Chey has also pledged that SK and its operating companies will cut 200 million tons of carbon emissions by 2030, representing 1% of the total carbon reduction goals for the entire world.
Learn more below about some of SK's innovative environmental commitments.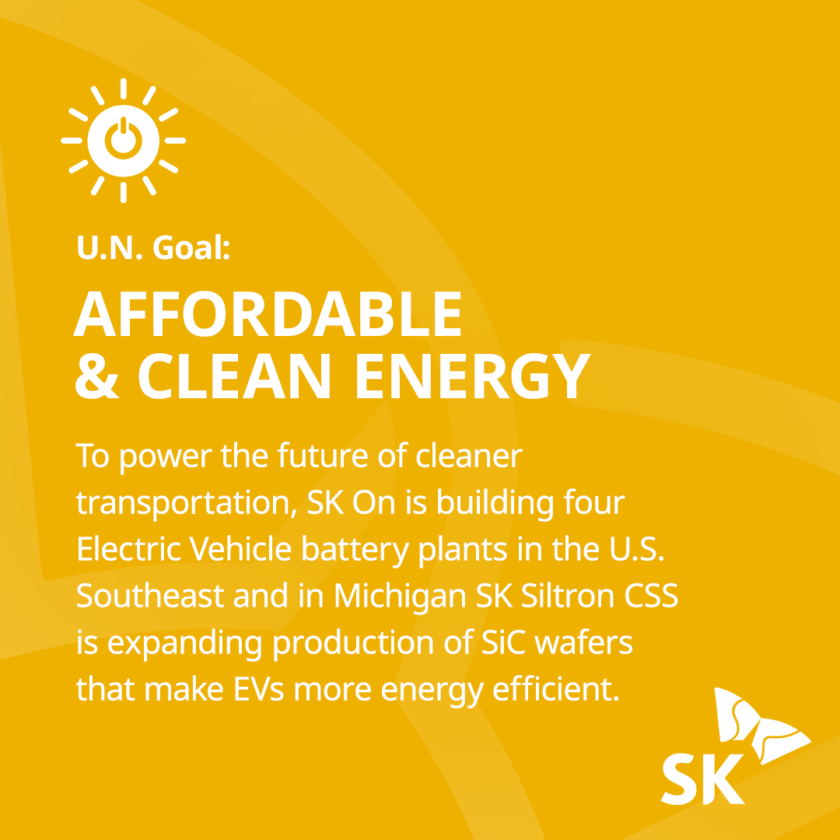 SK On and SK Siltron CSS Making Mobility Green
Widespread access to and adoption of clean technology and clean energy solutions is essential for preserving the planet. In the United States, SK On and SK Siltron CSS are improving the performance of Electric Vehicles (EV) and playing their part in helping build a more energy efficient transportation sector.
In Georgia, Kentucky, and Tennessee, SK On is on track to produce nearly 150 Gigawatt hours (GWh) of Electric Vehicle (EV) batteries – enough to power up to 2.14 million electric vehicles every year. In Commerce, Georgia, SK On went live with its first of two plants manufacturing lithium ion batteries.
The company is also investing $4.45 billion to build EV battery plants in Kentucky and Tennessee through the Blue Oval SK joint venture with Ford Motor Co.
In Michigan, SK Siltron CSS manufactures Silicon Carbide (SiC) wafers that improve the energy efficiency of EVs so drivers can go up to 10% further on every charge, and charge faster at each stop. The greater efficiency should bolster adoption of EVs and ultimately reduce carbon emissions from traditional internal combustion engines.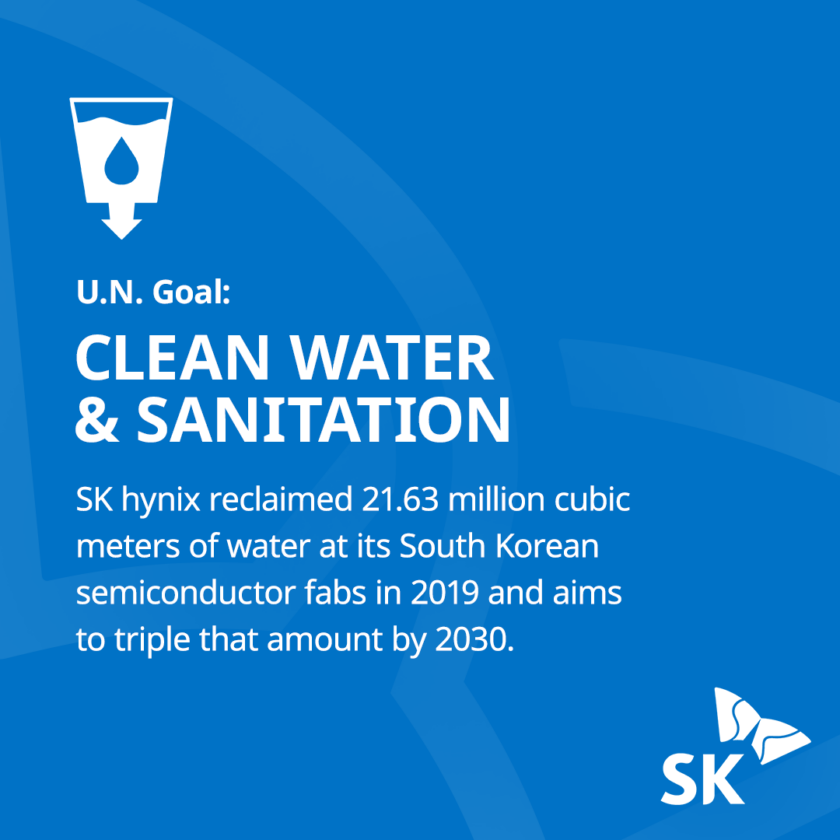 SK hynix: Committed to Conserving Water
Making semiconductors requires lots of water, but SK hynix is working to be a more sustainable semiconductor manufacturer by optimizing water usage.
For example, the company started retreating wastewater discharge so that it is eligible for reuse. As part of its Green 2030 plan, the company aims to triple the amount of reused water supporting its manufacturing chain. In 2019 alone, SK hynix reclaimed 21.63 million cubic meters of water – the equivalent of more than 8,500 Olympic-size pools.
In addition to reclaiming used water, SK hynix is also committed to using less water to start with. In 2020, the company conserved 42.77 million cubic meters of water – the equivalent of what 400,000 Korean citizens use every year.
SK Inc: New Food Investments Reduce Emissions
More than one-third of global greenhouse gas emissions caused by human activity can be attributed to how we produce, process and package food.
SK Inc. has invested nearly $100 million in new food companies in the U.S., Europe, and Asia, including Perfect Day, producer of the world's first animal-free milk protein. Compared to conventional dairy, Perfect Day's protein production reduces greenhouse gas emissions up to 97%.
SK has also invested in Nature's Fynd, the creator of a fungi protein used in meatless and dairy-free products. Meatless Farms is another SK investment. The company makes plant-based burger patties, chicken nuggets and other meat-free alternatives.
Much like renewables or cleantech, animal-free foods can help reduce global emissions and preserve our environment and natural resources.
Looking Beyond 2022
The Earth Day movement has galvanized people from all walks of life in a shared mission of preserving our planet and its resources. As a global citizen, SK is invested in this mission and committed to advancing the solutions that will lower emissions, strengthen our environment, and foster a more sustainable future for all.