Perspectives
Contactless Technology: How SK is Building a Smarter Future
December 8, 2021
Contactless technologies have become a regular part of our day-to-day lives. They let us purchase coffee without exchanging cash or a credit card with a cashier, and use an app to order weekly groceries and have them delivered directly to our doorstep, or car.
As expectations grow for safe and reliable contactless solutions, investments are on the rise for the underlying technologies that power them. SK businesses are at the forefront of this transformation as they develop, and manufacture, the technologies that go into many of the contactless solutions redefining our everyday interactions.
For more, scroll down to learn all the ways SK companies are helping speed up the adoption of contactless technologies.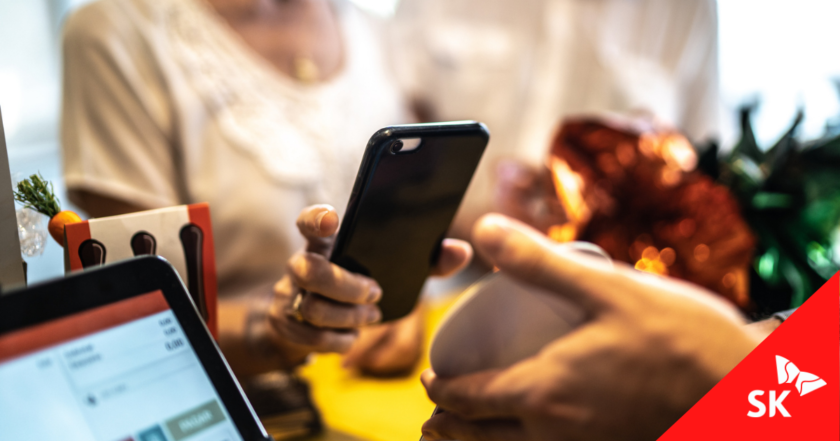 Smarter Grocery Shopping – SK Networks and Standard Cognition:
Earlier this year, SK Networks invested $25 million in Standard Cognition, a U.S.-based manufacturer of autonomous checkout technology for brick-and-mortar stores. Using AI-based computer vision, Standard Cognition is leading the digital transformation of the retail industry through unmanned automated payment solutions.
With their contactless solutions, consumers can complete purchases without touching check-out equipment or interacting with cashiers. The company is also piloting a system that integrates with AI-driven cameras to track items taken from store shelves – reducing check-out lines by enabling faster, contactless purchases.
In the next five years, Standard Cognition aims to install computer vision-based checkout equipment in more than 50,000 locations. This is aligned with SK's global efforts to support Digital Transformation (DT) and drive advancements that create a better connected future through smarter technology.

Next-gen Image Sensors for Faster Airport Lines and Drone Delivery – SK hynix:
Facial recognition and biometric technology offer tremendous promise at typically congested locations like airports by enabling digital identification that quickly and accurately scans passengers – replacing physical check-ins and creating shorter, faster lines.
SK hynix's CMOS Image Sensors (CIS) are expected to power such innovative solutions, and provide advanced technologies that recognize objects and actions more precisely in the future. The CIS measures distance and visualizes them as compelling 3D images – a crucial step when analyzing facial features for digital IDs.
Image sensors have a growing role in the next phase of contactless solutions, especially with Direct Time of Flight (D-ToF) technology. Like the human eye, D-ToF detects distance by sending short pulses of light and then measuring the time it takes for the light to return.
D-ToF offers a greater range for visually scanning and analyzing data. Other methods only track a few meters away, while D-ToF reaches nearly a hundred meters. They are also expected to play an integral role in the progress of next-generation mobility technology, such as Amazon's logistics robots and drone delivery services, and one day SK hynix will also thrive on taking part in this futuristic innovation.
Advanced semiconductor memories, like SK hynix's 176-layer 4D NAND flash and DDR5 DRAM, are similarly critical. The semiconductor memories enable the AI to accurately understand (and respond) to real-time environmental and stimulus changes.
Unmanned Stores – SK Telecom's T-Factory 24:
SK Telecom, the first company in the world to launch 5G service, has already introduced unmanned stores, named T-Factory 24. Similar to Amazon Go, SK Telecom's T-Factory 24 are brick-and-mortar locations, open 24 hours a day, and incorporate AI services to minimize interaction in shopping.
This is coming at a time when Gartner reports that more than 50% of technology providers anticipate significant customer adoption of AI-enabled products and services.
The experience starts by using facial recognition for contactless check-ins. Customers can then compare products like smartphones, receive AI-based consulting on price plans, complete purchases, sign-up for service, and even sell used phones.
SK Telecom is able to provide full-service at a physical location while simultaneously minimizing person-to-person contact and large crowds that can amplify the risk.
SK is at the Heart of the Next Phase of Contactless Solutions:
The transition to contactless technology began as part of the urgent need to protect public health. The benefits were clear in slowing the spread of COVID-19, as well as seasonal flu and colds. In addition, the proliferation of these solutions led to more seamless experiences for consumers in stores, restaurants, airports, hotels, and more.
Now, the next phase of contactless will create new job opportunities where more people can work remotely, reduce crowding, and prioritize human labor for tasks requiring higher-level thinking, creativity, and social intelligence.
Smarter technology is at the heart of the next era of innovation. In the U.S. and globally, SK is investing in the solutions that form the backbone of a future built around the prosperity of people and communities all around the world.