Perspectives
At CES 2022 SK companies showcased solutions to help make net-zero a reality
January 13, 2022
SK companies showed how their breakthrough technologies help support the brand's overarching path to net-zero carbon emissions.
At the 2022 Consumer Electronics Show, participating SK companies led with a unified rallying cry: We must all take ambitious actions to create more environmentally friendly and sustainable products to help lower the world's carbon emissions.
This ambitious commitment was encapsulated by SK's head-turning "Green Forest Pavilion", where SK companies and their partners showcased innovative solutions that could help build a greener and more sustainable economy.
Scroll down to learn about the news and actions taken by SK and its related businesses at this year's CES to lower emissions and combat the impact of climate change.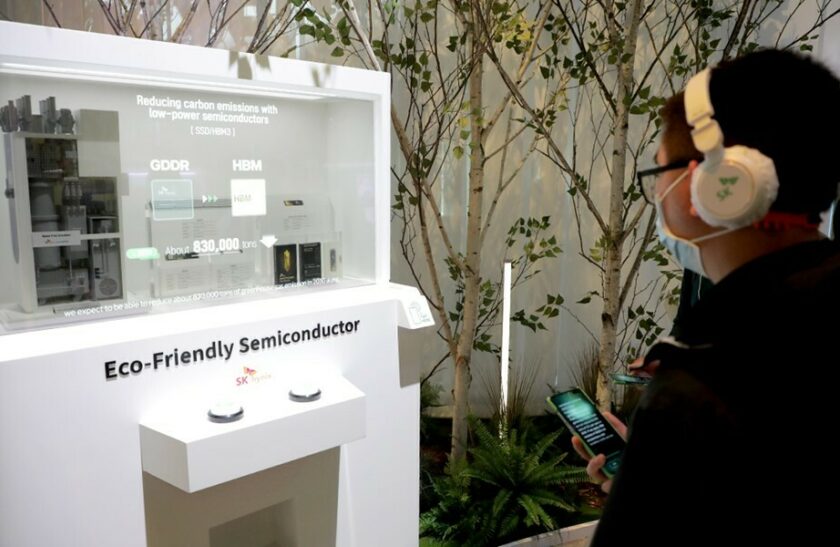 SK hynix showed how semiconductor technology could help lower carbon emissions.
Why this matters: SK hynix highlighted technologies and processes that play an instrumental role in SK's overarching carbon reduction goal. These include more energy efficient DRAM memory chips, which are manufactured using an environmentally-friendly water-free scrubber process. The solutions are also packaged in biodegradable solutions.
Read more in the SK hynix newsroom.

SK Telecom focuses its future technology on sustainable, environmentally friendly applications.
Why this matters: While AI and telecommunications are a key part of Information & Communications Technology (ICT) innovation, they also create a large environmental impact due to the amount of power these technologies consume.
What's the solution? While at CES, SK Telecom showcased a range of new, environmentally focused technologies poised to support SK's overarching carbon neutrality ambitions. These include the energy-efficient SAPEON chip and, Ifland, a new metaverse platform that allows users to take carbon generating activities like conferences and business trips to the virtual world.
Learn more about SK Telecom's CES product showcase here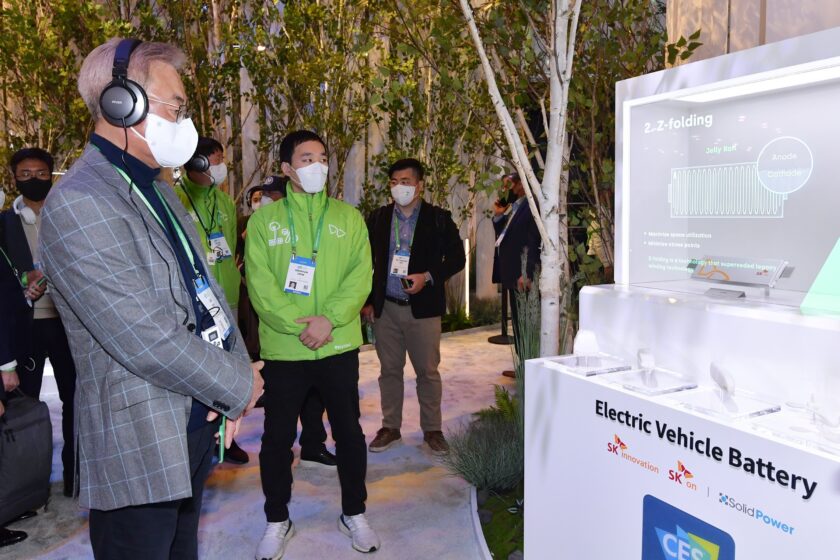 SK Innovation, a leading manufacturer of electric vehicle batteries, unveiled new devices aimed at reducing approximately 11 million tons of carbon per year by 2030.
Why this matters: The new products align with SK Innovation's "Carbon to Green" strategy, saving the equivalent carbon footprint of about 880,000 Korean individuals each year.
What products were showcased?
NCM9 battery cell, the flagship product of SK On which will power the Ford F-150 Lightning and is an integral piece of the company's decarburization strategy.
Lithium-ion Battery separator from SK IE Technology to prevent battery fires and increases safety.
An AI-based battery diagnostic solution that allows EV users to check the status of their battery and predict its remaining lifespan. This is the foundation for a variety of Battery as a Service (BaaS) models that reuse and recycle discarded EV batteries.
Read more about SK Innovation's participation at CES here.

SK E&S, a carbon-neutral energy optimizer, focuses its future technology on green energy products including hydrogen, renewable energy and energy storage to influence the reduction of CO2 emissions.

Why this matters: As SK Group's leading green energy business, SK E&S is introducing a strategy to build an all-encompassing hydrogen value chain that aims to produce 280,000 tons of hydrogen by 2025.
What else? SK E&S worked with its partner, Plug Power, to display a hydrogen fuel cell power pack, called GenDrive 3000, that offers high-efficiency energy and does not release harmful chemicals into the atmosphere. Additionally, the company also presented a strategy to establish a green energy ecosystem in which it aims to produce renewable solutions including solar PV and wind power. Also, SK E&S improves consistent performance in supply of renewable energy through energy solution technology.
Learn more about SK E&S role at CES in the company's newsroom.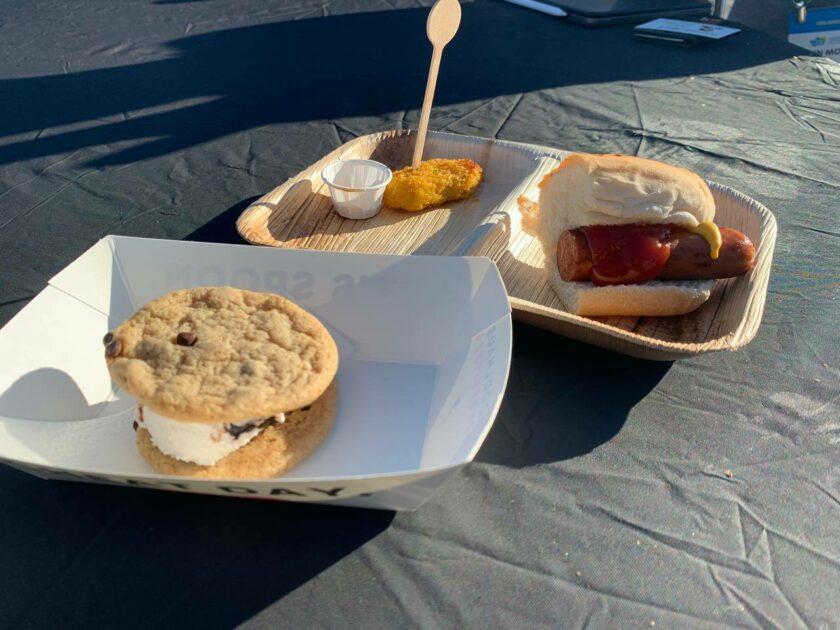 SK Inc. showcases its alternative food investments with a food truck serving Meatless Farm products and Perfect Day's ice cream
Why this matters: SK Inc. has been investing in alternative proteins and new food technologies as part of its commitment to building a more sustainable future. 2022 was the first time food technologies were highlighted at CES, emphasizing the important role they will have in the future.
Learn more about SK Inc.'s alternative food investments here.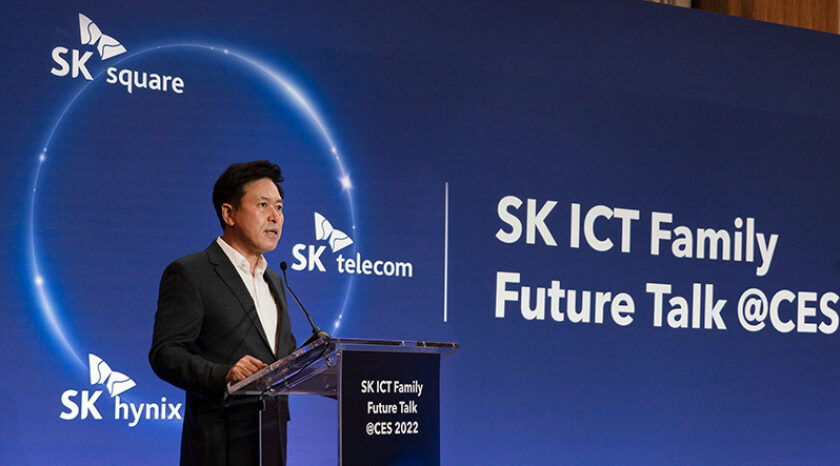 A Critical Partnership
SK Telecom, SK Square and SK hynix announced the launch of the 'SK ICT Alliance,' to jointly develop and invest in ICT convergence technologies.
Why this matters: Through the partnership, SK companies will drive innovation and investment in a range of ICT industries including artificial intelligence, 5G and semiconductors, with a goal of creating sustainable, global opportunities.
What's next? As its first order of business, the alliance will launch SK Telecom's AI chip SAPEON into the global market. The breakthrough chip has a deep learning computation speed of 1.5 times faster than traditional graphics processing units. Additionally, SK Telecom, SK Square and SK hynix plan to invest over KRW 1 trillion, about $834 million, through 2022 in companies focused on the AI, metaverse, blockchain and semiconductor industries.
View the announcement here.
Other Happenings
SK ICT Companies to work closely with Qualcomm on future innovation.
Why this matters: As one of the top global technology innovators, Qualcomm Incorporated will serve as a key partner to SK companies in the development of data center applications and high-speed memory chips, as well as 5G-led innovations including the metaverse and smart factories.
Read more in the SK Telecom newsroom.